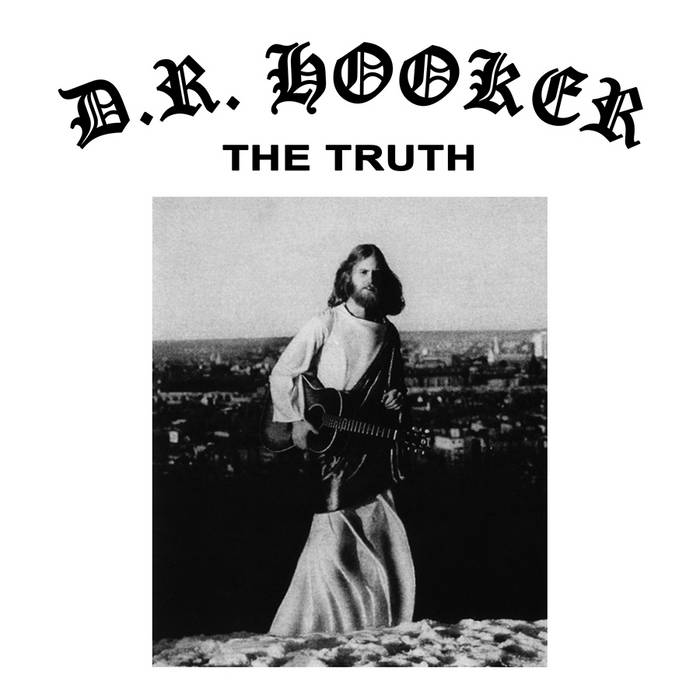 D.R. Hooker - The Truth (CD)
File Under: Acid Rock

Sound:
https://merlinsnoserecords.bandcamp.com/album/the-truth

Cat.Nr.: PSI 002-1
Label: PSI (Psychedelic Sounds Intl.)
Formats: CD
Price: 11,99 €
Barcode: 0710473604123
Releasedate: 10.04.2015

If you face a "Jesus" look-alike in a white robe with an acoustic guitar and a beard in full blossom on the cover of a record you know you're on the trail of a real oddity, in whatever way it might be. Then you check the name and it says D.R. Hooker on the cover. Is it his name or is he a doctor who cures prostitutes, so called "hookers" ? What is this all about? With a bit of effort you may find out that this is the name of a musician from the Connecticut scene of the early 70s and that he gathered a bunch of willing hired guns around to back him up instrumentally. You will also be able to get the information that the original vinyl pressing in 1972 had only a limited run of 99 copies and is nowadays as rare as gold dust but there may have been reissues in the meantime. Well, if something like that gets reissued, it should have some kind of a fan base among collectors of 70s music and most of them go nuts for psychedelic, hardrock and progressive rock. So, can we say that this little obscurity with the utterly odd cover is some kind of the early 70s hardrock and psyche scene's Holy Grail? There might be even more obscure records (like STONEWALL – Stoner) with print runs even lesser in size but D.R. HOOKER – The truth definitely belongs to the most iconic records in the field of US rock. Now we come to the actual musical quality of this item and despite a little rough and unpolished sound, the music is definitely intriguingly composed, well executed and backed with feelings of peace or passion, whatever song you get to listen to. The fervid opener "The sea" is one of the best examples what a brilliant composer Donald R. Hooker (there we go), singer / songwriter and hippie with a substance abuse history, really was. A pulsating rhythm made of regular drums and obsessively beaten percussions, held together by an ever pumping bass guitar, was the background for an epic, picturesque vocal melody riding on a guitar stampede with excessive leads. Next comes a gentle pop tune or a steaming funky rocker with an easy and relaxed vocal line or another quite progressively structured composition of crushing heaviness. No matter where the needle or the laser are in the groove, each note here is captivating and will inspire you down to the bare bones. Hard to compare this music but it ranges from pop psyche of the highest order in the vein of the STRAWBERRY ALARM CLOCK to powerful late 60s rock with a funky attitude as played by so many rockbands those days to thought provoking singer / songwriter tunes in the vein of Neil Young, Nick Drake or even Donovan Leitch with either lush or sparse arrangements. And there is way more than that. Haunting synthesizer lines on powerful guitars build an epic beginning for a fuzzed out, yet relaxed garage rocker that could be a lost outtake of a JEFFERSON AIRPLANE session with THE SEEDS. The whole album bears a homemade feeling and creates a very imaginative atmosphere. Next to the ten original tracks of "The truth" we get six of eight songs that were recorded in 1974 and been released about five years later as "Armageddon". And all of these songs come in the same way as the ones on "The truth". 60s psychedelia, dramatic pop, progressive power rock and great folky bits and pieces flow into each other. The result is music in full blossom, so colorful and thrilling that you will definitely give this album a heavy rotation on or in your music player.